The primetime games have been mostly pretty good thus far this season but, this one has a lot to live up to after a down-to-the-wire nail-biter on Monday night. Week. 7 in the NFL gets underway as the (3-3) Denver Broncos head to Cleveland to take on the (3-3) Browns. I have been pretty accurate with the Thursday night games so far, but this one is much trickier to pick than it would have been.
(+105) Broncos at (-125) Browns (-2, 42)
Both teams find themselves on similarly precarious footing right now. The Broncos have lost three in a row after their 3-0 start and the Browns have lost back-to-back games to fall to .500 after their 3-1 start. Both squads, at one point, found themselves tied atop their respective divisions and now find themselves tied at the bottom with their respective division winners from last season. Now, Denver and Cleveland are in direct competition with one another and their paths out of the cellar towards any potential hopes of a playoff berth start with this game.
This game became a lot more interesting in terms of its general competitiveness as the Browns have been absolutely ravaged by injury. The most notable players not playing for Cleveland on Thursday are starting quarterback Baker Mayfield, and both starting running backs, Nick Chubb and Kareem Hunt (who was placed on injured reserve which is why he's not listed on the injury report). That's not good news for the offense. Three of their starting offensive lineman are listed as questionable too, managing to get in only one day of limited practice on Wednesday. There is one ray of sunshine peeking through the clouds and that's the return of wide receiver Jarvis Landry who was activated off of injured reserve for this one. Landry and Odell Beckham Jr. haven't gotten to play together that much so that could open up the passing game for the Browns, but it will be on backup QB Case Keenum to get that going. Keenum is a serviceable veteran and he's had some solid years (2017-2018) as a starter so, given the circumstances, it's going to be very interesting to see how the offense operates under his command.
That's a lot of injuries in key places, and Kareem Hunt isn't on this list because of IR
Denver gets off much easier when it comes to the injury report, but let's not forget that they are still down WRs Jerry Jeudy and KJ Hamler (who was lost for the season). They did, however, just add John Brown to the receiver group and he's a speedy veteran with excellent route-running. I was sad to see him leave the Bills as a salary cap casualty, but I'm glad he found a home and he'll make them better. The only real injury concerns are to starting left tackle Garett Bolles and QB Teddy Bridgewater. Both guys are going to play but mobility is going to be at a premium against the Browns' pass rushers, especially coming off Bridgewater's blindside. It'll be one of the key matchups to watch.
| Player | Position | Injury | Mon | Tue | Wed | Game Status |
| --- | --- | --- | --- | --- | --- | --- |
| Garett Bolles | T | Knee | DNP | LP | LP | Questionable |
| Baron Browning | ILB | Concussion | DNP | DNP | DNP | Out |
| Aaron Patrick | OLB | Ankle | DNP | DNP | DNP | Out |
| Teddy Bridgewater | QB | Foot | LP | LP | LP | Questionable |
| Caden Sterns | S | Illness | (-) | DNP | LP | Questionable |
The Broncos have a solid defense of their own, ranking 8th in overall defense and 4th in scoring, but much of that was made playing against some of the worst teams in the league. As their competition improved over the last three games, their points allowed per game jumped from 8.6-pts to 28-pts. Their offensive PPG also dropped from 25.3-pts to 16.6-pts and the losing streak was hand-in-hand. None of that is good if you're Denver.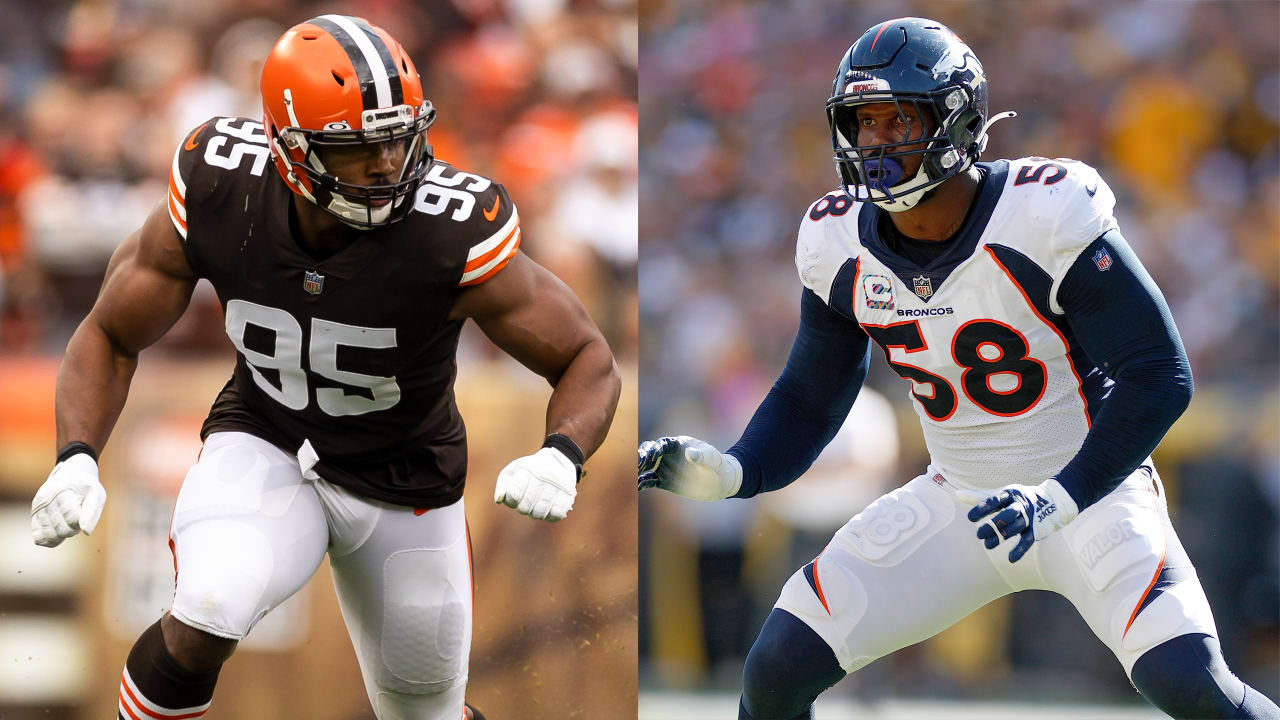 Cleveland definitely has the edge when it comes to strength-of-schedule but losing some games comes with the territory. Most concerning would be the number of points they've given up in their losses, a staggering 39-PPG compared to 11.3-PPG in their wins. Granted, the losses are all against the high-powered offenses of the Chiefs, Chargers, and Cardinals, but those aren't the kind of numbers you expect to see out of an elite defense. Still, the Browns have a Top-10 defense in terms of total yards and they're actually tied for 2nd best in terms of yard-per-play. Both teams are stout against the run, giving up fewer than 90-yards per game, and but both teams are in the Top-5 when it comes to yards allowed per catch. Cleveland has also given up the 3rd most TD passes but, again, KC, LAC, and AZ. All things considered, the Browns have the better defense.
When it comes to the offenses, it's no surprise that Cleveland has the best rushing attack in the league. However, they're missing their 1-2 punch of Chubb and Hunt so they're gonna have to throw to win. Denver has the slightly better statistical passing game but part of that's due to the Browns' ground dominance and, when you look at the most important metrics, it's very close. Those were the numbers with Mayfield under center and there are no guarantees they're as consistent with Keenum at the helm. As a result, I'd say Denver has the advantage on offense but it's tough to tell by how much. They are certainly healthier though.
This is a very difficult game to call. I'm a little surprised to see the Browns favored by 2-pts at home given all the injuries, but that says the oddsmakers believe in their defense. When these teams met two seasons ago, Denver edged out a close one 24-19 and I'm feeling a similarly close and low-scoring game as the Browns will struggle to find their identity without their stars in the backfield.
Pick: Broncos | Vs Spread: Broncos +2 | Over: 42 | Final: DEN 23 – CLE 20