Week 3's Thursday night game wound up being lackluster down the stretch, but it might have been pretty good had Tyrod Taylor played for the Texans. In Week 4, we actually get a rematch from Week 4's Thursday night game last season, as the tough luck Jaguars travel to Cincinnati to take on the rising Bengals.
(+280) Jacksonville Jaguars at (-350) Cincinnati Bengals (+7.5, o/u 46)
When these teams met last season the Bengals came out on top 33-25, but that was the Minshew Mania Jags. Jacksonville went on to be the worst team in the NFL and as a result, they used their No. 1 draft pick to take QB Trevor Lawrence. Cincy had a pretty bad season as well, especially after their No. 1 draft pick, Joe Burrow, went down with a season-ending knee injury. Almost exactly a year later, this primetime showdown features the No. 1 overall draft picks from the past two seasons in a showcase of potential future stars.
To say things haven't been going well for Lawrence and the Jags would be putting it mildly. They've shown some signs of life in the past two weeks, but the transition to the pro-level has been a bumpy one for their rookie QB. Besides an 0-3 start to his career, Lawrence is leading the league in interceptions, he's last in completion %, has the second-worst rating and QBR (behind fellow Jets' rookie QB Zach Wilson), and he's in the bottom third in the NFL in terms of passing yards even though his team is playing from behind constantly.
I was never high on Lawrence, to begin with, but he also stepped into one of the worst situations in the league. He's shown some flashes and his receiver group is pretty dynamic, given the chance. Their other first-rounder, RB Travis Etienne was lost for the season to a Lisfranc injury before it even started. However, even if he were healthy, that wouldn't fix the 30+ points-per-game they are giving up. In the process of preparing for their rebuild, the Jags had a fire sale on defense over the past few seasons and this is the result.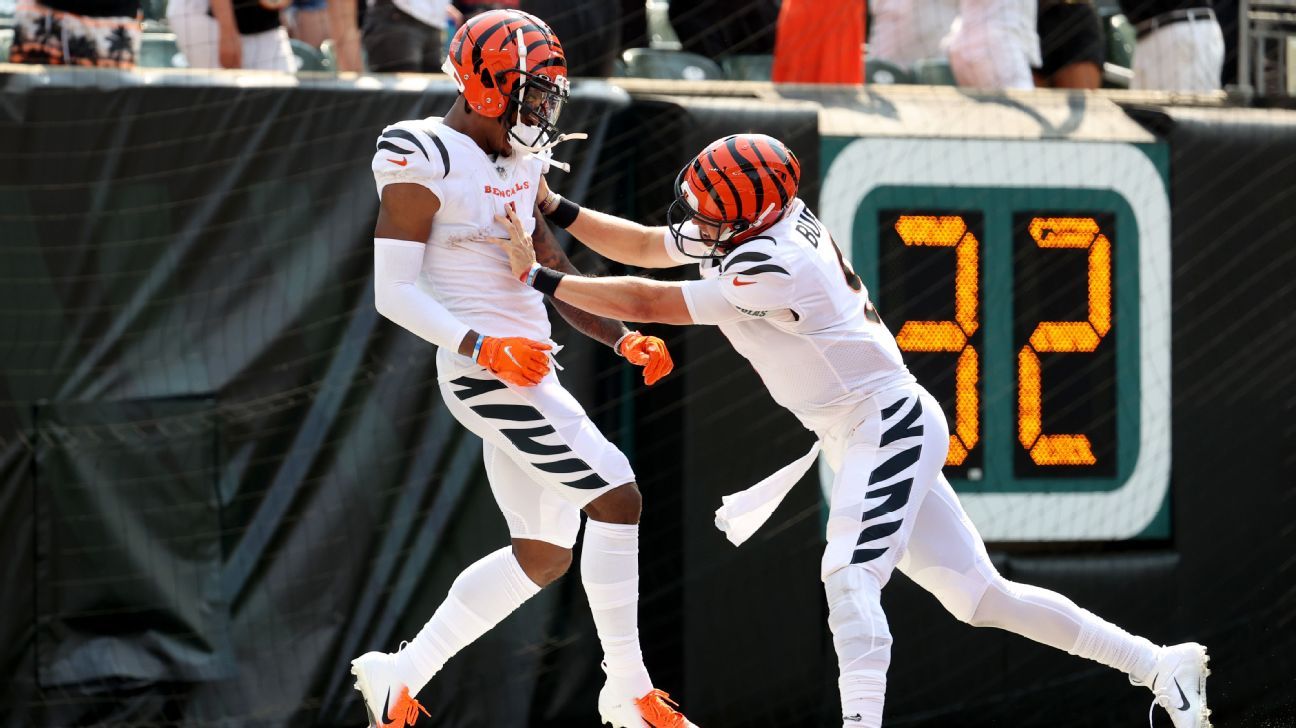 The Bengals were going through it in their rebuild season two seasons ago, but they began to show improvement with Burrow under center during the 2020 campaign and have carried some of that momentum over. They went from 2-14 to 4-11-1 even with losing Burrow and they parlayed their 2021 draft pick into Burrow's college teammate, WR Ja'Maar Chase, who has been killing it so far this season. Cincy just picked up a signature division win over the Steelers and that's going to give them a lot of confidence heading into the primetime spotlight.
The Jags and Head Coach Urban Meyer know that they are going to be in the national eye and if there was ever a game where they can't really afford to be embarrassed, it's this one. I'm not saying they are going to win but they are going to play their hardest. They were able to catch Arizona and Denver by surprise early in those games but weren't able to sustain any momentum. I wouldn't be at all surprised if Cincy overlooks them a little too and maybe even falls behind early.
The Bengals will be without WR Tee Higgins for the second week in a row. They'll also be without free safety Jesse Bates III and right guard Xavier Su'a-Filo is doubtful. The Jags will be missing Roy Robertson-Harris along the D-line and their longtime kicker, Josh Lambo, so they are going to have to put the ball in the end zone.
Jaguars' RB James Robinson finally looked like the breakout player against Zona that we saw last season. That's promising for Jacksonville and they are actually Top-5 in yards-per-carry. However, the Bengals are Top-5 defensively in YPC allowed, so it'll be interesting to see who can establish the line of scrimmage and dictate the pace and physicality of the game.
Cincinnati is the better team and this is an opportunity they can't waste as a win keeps them in stride at the top of the AFC North. Nobody is expecting Jacksonville to win, but I could see this being a close game because of that. The Jags have given the (3-0) Cardinals and (3-0) Broncos some competition early in their last two games. There's something to be said for that and I expect them to challenge early again. Ultimately, I don't think it'll be enough but we'll see.
Pick: Bengals | Vs Spread: Jags +7.5 | Over: 46 | Final: CIN 34 – 27 JAX