Counterprogramming is always interesting over the summer. The big studio projects are doing their thing at the box office, bulldozing right along, while the small indie offerings are there to pick off stragglers in the wake. It's an interesting niche to fill but a good way to get recognition apart from all the other potential awards season contenders that are lined up into the fall season. The Farewell thrives on the strength of its incredibly authentic and heartfelt story while tackling some much larger issues along the way. 
As the title would suggest, this film is indeed about saying goodbye. Beyond that oversimplification, it's about family and how we deal with the impending loss of a loved one, both internally and externally, and what role culture plays in the whole process.
Definitely atypical summer fare but this story from Writer/Director Lulu Wang is at least semi-autobiographical, if not mostly so. The family in this story is Chinese and that cultural identity plays an essential role in telling it. Mandarin is the spoken dialogue of choice for the majority of the film and it was one of several ways Wang kept the authenticity of her story intact. From the immigrant family experience in the United States to the more traditional family life in China, there were several competing narratives at play but they were all distinctly Chinese in one way or another. Wang was undoubtedly pressured to change some things along the way due, in large part, to its distinctly Asian identity and it took a while to get this project off the ground but eventually found the right support system after the story made an impact on public radio. While there are a lot of universals at play in the film which should connect with broad audiences once it gets the chance, the cultural narrative is the foundation for the whole thing. Credit to Wang for sticking to her vision and making this movie, telling this story, on her terms. It turned out to be one of 2019's best films and could make and puts her in the conversation for Best Director and potentially Best (Adapted) Screenplay.
A good example of her intuition as a filmmaker is her decision to cast Awkwafina in the lead role as Billi, the daughter of Chinese immigrants living in New York when she learns her grandmother has a terminal illness. I honestly don't know much about her other than by reputation and things she's worked on but, in this film, she was fantastic. Her comedic strengths gave way to a troubled but beautiful mix of contentious emotion, without a clear direction. Don't get me wrong, she's funny…the movie is funny…but the humor landed much deeper below the surface and she carries the burden of knowledge with a visible gravity. Right now, she's got to be in the conversation for Best Actress but at the very least this was a Breakthrough Performance in terms of her dramatic abilities. She's is booked up pretty heavily so you'll be seeing, or hearing, a lot of her in the near future.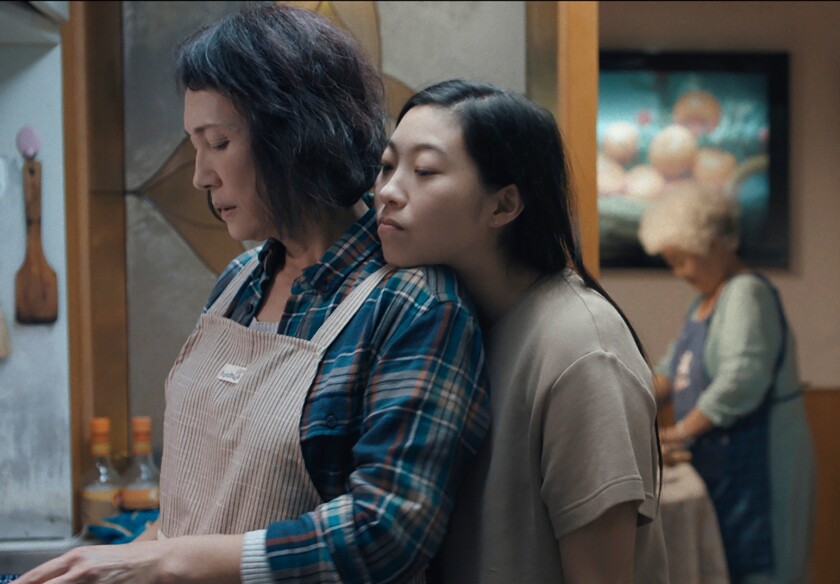 While Awkwafina was the lead, Diana Lin truly embodied this story playing Billi's mom Jian. Keenly aware of her position within the family and the weight of her decision to leave China, the character is that bridge between tradition and adaptation and Lin plays it with an enviable sharpness. It speaks volumes about the screenplay's ability to communicate variable perspectives. Lin was quietly brilliant but incredibly powerful and deserves to be on the shortlist for Best Supporting Actress.
There were a number of strong performances from the cast, including Tzi Ma who has been one of Hollywood's go-to Asian actors for the better part of three decades. So often he has been utilized in some capacity as an Asian authority figure, it was refreshing to see him playing a stripped-down, normal father for a change. In her first and only film (so far) Shuzhen Zhao did a wonderful job playing the ailing grandmother Nai Nai. She was funny and energetic but still motherly and in complete control as the family matriarch. Whether or not she does any other projects from here, she hit the nail on the head for this one.
Filming on location in Changchun, China must have been interesting. The communist footprint there is fairly substantial from a cursory glance, at least what we see on screen. The uniformity in that architecture is powerful and presenting it on camera helped paint a stark contrast between the American and Chinese way of life. Cinematographer Anna Franquesa Solano has a great eye for framing and really got after it with the establishing shots of Changchun. It may not be the kind of work that gets recognized at awards shows but it was incredibly effective.
I had seen the trailer for this movie a few times and it grew on me more and more each time. The premise is simple and straight forward but the execution is deeply layered if not overly complex. The "less is more" approach is always something I've been a fan of and this was a great example of that style. The Farewell really is one of the year's best films so far but even if it doesn't stay in the conversation for Best Picture by year's end that doesn't diminish its intrinsic value. 
Recommendation: See it for the performances and for the story. I would think it's exceedingly difficult to not find at least some small aspect to connect to in this film.