As much as I didn't want to be right about the Thursday night game, it's nice to start the week off with a win. I picked the Rams to win and cover 2.5-points with the under on 54.5-pts, and I got fairly close on the final score, but the main story coming out of the game was the injury to Russell Wilson.
The Seahawks struck first at home, after a scoreless 1st quarter, on a Wilson to DK Metcalf touchdown. However, points were hard to come by and Jason Myers missed a field goal that could have put the Hawks up 10-3 at the half. Seattle found themselves down and struggling to score in the second half and midway through the 3rd quarter Wilson narrowly missed Tyler Lockett on a deep throw that could have been the go-ahead TD. On that play, Wilson's throwing hand slammed into Aaron Donald on the throw and badly compromised Wilson's middle finger. He tried to play through it but wound up leaving the game. Back up QB Geno Smith came in a played remarkably well, given the circumstances. He led the Hawks on a TD drive (Metcalf's 2nd of the night) and had the ball with a chance to win the game. However, Smith threw the interception that iced the game when Lockett fell down on a route on their final drive.
Obviously, losing a player of Wilson's caliber impacted Seattle but it may not have been the deciding factor in the game. You have to give credit to the Rams. They had a tough first half but responded with 13-pts in the 3rd quarter to take the lead and they never looked back. Matthew Stafford played well, throwing for 365-yds and a TD after a rocky first half where he threw a pick that took points off the board. Seattle's defense is the worst in the league for a reason and we saw that, but they also made the key stops when they needed to give their offense a chance. It just wasn't meant to be.
Russell Wilson underwent successful surgery Friday after the MRI showed a ruptured extensor tendon and a comminuted fracture-dislocation. He'll be out for at least a month and possibly up to eight weeks. At 2-3, Seattle is in a bad way. Smith played well enough to give them hope but it's a long and rocky road forward. The Rams left Seattle 4-1 and back on track. Let's take a look at the rest of Week 5's games.
(+130) Jets at (-150) Falcons (-2.5, 45)
I don't trust the Falcons as far as I can throw them and that's worked out 3/4 times so far this season. They probably should have won at home against Washington last week when they had an 8-pt lead in the 4th quarter, but they predictably still blew it. Now they get the London game and their top two receivers, Calvin Ridley and Russell Gage, are out along with defensive lineman Marlon Davidson are out. So, if the Kyle Pitts train was ever going to leave the station, this should be the game. Plus, Avery Williams and Erik Harris are doubtful in the secondary. Tight end Tyler Kroft and WR Jeff Smith, and S Adrian Colbert are out for the Jets with CB Brandin Echols and DL Nathan Shephard are questionable. New York is coming off an emotional overtime win over the Titans which is going to give them a lot more confidence. My gut says the Falcons are the better team by a hair, but the injuries on offense are concerning for a team that was already struggling to find their identity. If there was a game on the schedule where the Jets had good odds going in, this is it.
Pick: Jets| Vs Spread: Jets +2.5| Under: 45
(+360) Dolphins at (-475) Buccaneers (-10, 48)
The Bucs' injury report is uglier than they'd like it to be with TE Rob Gronkowski, S Antoine Winfield Jr., and DL Patrick O'Connor are out with RB Giovani Bernard, CB Jamel Dean, and DE Jason Pierre-Paul are all questionable. However, I don't think it's enough to change the outcome. DaVante Parker is questionable for Miami but he'll probably play in the Floridian showdown. The Bucs are the better team and, now that the Patriots game is out of the way, there will be fewer distractions. I know the Dolphins want to play better than they did last week, Jacoby Brissett especially, but this doesn't seem like the game for that to happen. The spread is still pretty big at 10-pts, so if you like the Fins it's a tempting cover.
Pick: Bucs | Vs Spread: Bucs -10 | Under: 48
(+140) Eagles at (-160) Panthers (-3, 44.5)
These are very favorable odds for an Eagles team that hasn't looked good so far. Both teams are coming off losses, but the Panthers hung in there with the Cowboys and played pretty well in moments. Carolina definitely has the better defense (#3 overall) and leads the league in QB pressures. Jalen Hurts is going to give the Eags a chance because he's good against the blitz, but that hasn't translated into wins and I don't see that changing here. The Eags are without their bet O-lineman, Lane Johnson, and even though LB Shaq Thompson and T Cameron Irving are out for Carolina, they have proven they are the better team. Even with RB Christian McCaffrey still doubtful, the offensive output is comparable I've gotta favor the team with the significantly better defense at home. The
Pick: Panthers | Vs Spread: Panthers -3 | Over: 44.5
(-135) Saints at (+115) Washington (+2, 43.5)
I'm not how the Saints are favored here after they got beat by a winless team back home at the Superdome. The Washington defense hasn't lived up to the reputation they established last season but, with C Erik McCoy and T Terron Armstead both out on the Saints' O-line, this could be a get-right game for them. Guard Brandon Scherff and WRs Cam Sims and Dyami Brown are out and WR Curtis Samuel, LB Curtis Holcomb, and RB Antonio Gibson are questionable but practiced. Defensive Tackle Deron Payne did not practice so his questionable status is more worrisome. Even with the injuries, Washington has found their identity and I can't say the same for the Saints. They still run the ball well and their defense has been pretty good, especially against the run (#2 ovr) but they are near the bottom of the league in total offense. My gut says Washington at home, but I can kinda see why the Saints are favored.
Pick: Washington | Vs Spread: WFT +2 | Over: 43.5
(-210) Titans at (+175) Jaguars (+4.5, 48.5)
The Titans are coming off an embarrassing loss to the Jets, and they'll be getting WR A.J. Brown back although Julio Jones is still out. Tennessee has a lot of other guys missing from this matchup, but only three of those are starters. The Jags have been playing better each week and they'll only be without Roy Robertson-Harris on the Jags' D-line. However, their coaching situation is on the verge of implosion. Urban Meyer is trying to get out of this job and reports have his players laughing him out of the meeting rooms. That would be enough for me but Titans' RB Derrick Henry also owns the Jags and they need a get-right game and 4.5-pts seems too good to be true.
Pick: Titans | Vs Spread: Titans -4.5 | Over: 48.5
(+350) Lions at (-450) Vikings (-10, 49)
Minnesota let me down big time last week and they're about as unreliable as the Falcons. Dalvin Cook is still questionable and listed as a game-time decision while DT Michael Pierce and WR Ihmir Smith-Marsette are out. Nobody on the Lions is out that we didn't already know about, but that isn't swaying me one way or the other. Detroit is winless for a reason and nothing I have seen from them makes me think that's going to change. Minny could be 3-1 instead of 1-3 and they are tough to stop even without Cook. That 10-pt spread is still massive for a division game and if you want money on the Lions, that's your in.
Pick: Vikes | Vs Spread: Lions +10 | Under: 49
(-125) Broncos at (+105) Steelers (+1.5, 39.5)
If I looked at this game at the beginning of the year, I would have never had the Broncos as favorites. This one started as a pick 'em but, clearly, the money is heading towards the Broncs. Denver is 3-1 and just lost to the first good team they played. Pittsburgh lost its third in a row but maybe played a little better in their loss to the Packers. Their injury issues are still problematic. Cornerback Cameron Sutton, DT Carlos Davis, OL Rashaad Coward, and WR James Washington are out. Denver is without TE Albert Okwuegbunam and they had five key starters with limited practice, including QB Teddy Bridgewater who left last week's game after a hit to the head. Denver is capable of winning this game, but it's as desperate of a situation as Pittsburgh could have imagined. It's a must-win for the Steelers. However, I have picked them three times in a row and they are all losses and the only time I picked against them, they beat my Bills. I know the narrative says they are done, but their defense can still create havoc.
Pick: Steelers | Vs Spread: Steelers +1.5 | Under: 39.5
(-145) Packers at (+125) Bengals (+3, 50.5)
The Bengals are playing good football right now but they still struggled with the Jags last week. Green Bay has gotten back to what they do and has strung together three in a row. Their injury report isn't bad but they have a couple of issues with CB Jaire Alexander and O-lineman Josh Myers. The Bengals get WR Tee Higgins back but will go without O-lineman Xavier Su'a-Filo and star RB Joe Mixon is still very much doubtful. Cincy has come a long way to this point, but if the Packers do what they are supposed to and treat Cincy as a threat, they should win.
Pick: Packers | Vs Spread: Packers -3 | Over: 50.5
(-400) Patriots at (+310) Texans (+9, 39.5)
The Texans are pretty healthy except for Tyrod Taylor's IR stint and RB Rex Burkhead out. New England on the other hand has five guys out, including three starters across the O-line and their best CB, Jalen Mills. Two rookie QBs will go head to head in this one and I'd have to favor Mac Jones slightly for NE, but those line issues could be a problem. The Pats theoretically still have the better defense and should get the job done, but 8-pts is asking a lot.
Pick: Patriots| Vs Spread: Texans +8 | Under: 39
(+200) Bears at (-240) Raiders (-5.5, 45)
Both of these teams are a bit beat up heading into this game. Chicago is without their defensive centerpiece Akiem Hicks and RB David Montgomery who went to IR. The Raiders are without their top two CBs. I can see why Las Vegas is favored here but they didn't look particularly good against the Chargers last week. Justin Fields led the Bears to victory over a bad Lions team last week and he'll be an interesting wildcard in this game. He hasn't played particularly well, and he'll need to keep pace with a fairly potent Raiders' offense. The spread moved in the Raiders' favor so we'll see what they're made of.
Pick: Raiders | Vs Spread: Bears +5.5 | Under: 45
(+115) Browns at (-140) Chargers (-2.5, 47)
The line has moved towards the Chargers in one of the best games of the week between a pair of 3-1 teams. Cleveland gets the short end of the stick on the injury report and maybe that has something to do with it. Offensive tackles Jedrick Wills and Chris Hubbard and CB Greg Newsome II are out for this game and nine more guys are questionable, including some key players. I know the Browns' defense has been stellar thus far and they'll have a chance, but I have to side with a healthy Chargers team at home.
Pick: Chargers | Vs Spread: Chargers -2.5 | Under: 47
(+260) Giants at (-330) Cowboys (-7, 52)
The Giants are still without their #2 & #3 receivers and their best defensive back Jabrill Peppers is out for this one too. Dallas has some guys questionable, but only DE Dorance Armstrong is out for the Boys. Their defense is playing inspired right now and they are going to make it tough on a short-handed NYG squad. Yes, the G-Men got the road win over the Saints but I'm going to say that's more indicative of the Saints. There's no way I can't pick Dallas here.
Pick: Cowboys | Vs Spread: Cowboys -7 | Under: 52
(+205) 49ers at (-220) Cardinals (-6, 49)
It's the start of the Trey Lance era in San Francisco after Jimmy G went down, but it's a lot to ask of the rookie to beat this Cardinals team. It got much harder with TE George Kittle landing on IR and K'Waun Williams out. It's still a division game and the 49ers need a big win, but I can't see them winning this game unless Lance plays well beyond what the offense has shown so far. The Cards have some injuries but it doesn't seem too big for this game.
Pick: Cards | Vs Spread: Cards -6 | Under: 49
(+130) Bills at (-150) Chiefs (-2.5, 56.5)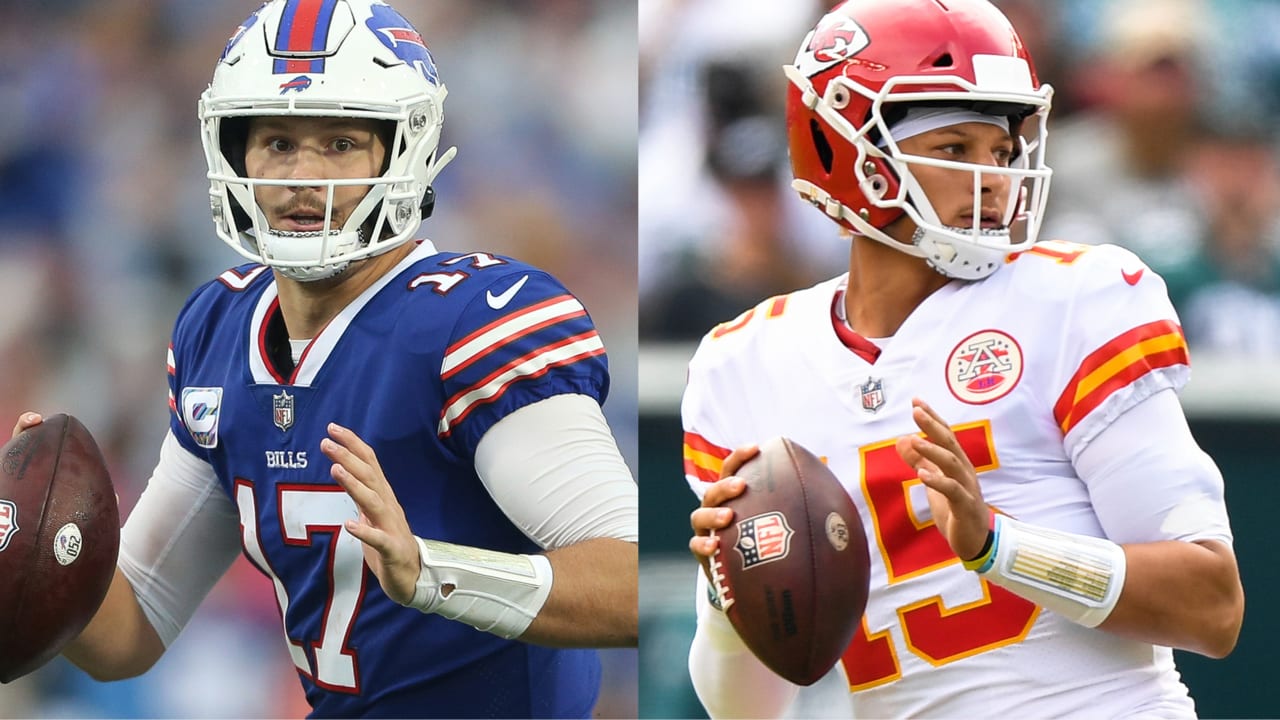 This is the game of the week in the Sunday slot for a reason and the AFC Championship rematch between the Bills and the Chiefs promises to be a good one. Both teams are looking as healthy as you could hope for from this game, so it's just down to the teams. The Bills have never beaten the Chiefs in the Josh Allen era, but that ends Sunday. Yes, the Chiefs are the measuring stick for the AFC but the offenses have comparable capabilities and the Bills have a significantly better defense. Buffalo made all the right moves in the offseason and it has shown with two shutouts, the highest point differential, and. the#1 defense in the league so far. They still have to prove it, but we know the Chiefs' defense doesn't exist. It's the revenge tour. Go Bills! Bills by a billion!
Pick: Bills | Vs Spread: Bills +2.5 | Over: 56.5
Colts at Ravens (-7, 45.5)
This Monday night game is a little anticlimactic after Bills/Chiefs but it was meant to be a more important game than the standings currently reflect. Indy is dealing with a lot of injuries after their first win including CB Rock Ya-Sin, O-lineman Braden Smith, DE Kwity Paye, and RB Jordan Wilkins all out. I think a few of those guys were out last week too, but the Dolphins aren't the same test as the Ravens. The Broncos found out the hard way last week that the Ravens are a big step up in competition. Baltimore is healthy too and finding its flow. At home, on Monday night, you know they want this game back after losing that crazy game to the Raiders in Week 1. I'll go Ravens, in a close one.
Pick: Ravens | Vs Spread: Colts +7| Over: 45.5