The Saturday double-header added a little bit of clarification to the NFL Playoff picture. Kansas City wrestled a 28-24 win away from the Broncos to stay within reach of the AFC's #1 seed (with a Titans' loss) and the Cowboys got their offense on track with a 51-26 win over the Eagles to stay in the conversation for the NFC's #2 seed (with a Rams' and Bucs' loss). The extra game on the schedule added a lot more parity this season and left plenty to play for in the final week.
I have won the last three weeks in a row in my pick 'em group by not overthinking things too much and trusting my gut. I got off to a good start with the Chiefs and Cowboys on Saturday, so I'm going to try and stay with that method.
(+170) Steelers at (-200) Ravens (-3.5, o/u 41)
The Ravens and the Steelers are still alive for a playoff berth by the slimmest of margins. They both need the Colts to lose and they both need the Raiders and Chargers game to not end in a tie, Baltimore needs LA to win that game. Lamar Jackson is still out with the ankle injury so it's on Tyler Huntley to keep their hopes alive. He's played fairly well but BAL has also lost three of his four starts, by a combined 4-points. Additionally, the Ravens' already debilitated secondary is without starting CB Anthony Averett Pittsburgh is playing with mostly a full clip, but they'll need the defense to show up like they did last week. It's win-or-retire for Roethlisberger and if the team plays with that sense of urgency, they can win on the road.
Pick: Steelers | ATS: Steelers +3 | O/U: Over 41
(+220) Bengals at (-270) Browns (-6, o/u 37.5)
After the Bengals clinched the AFC North, the decision to sit Joe Burrow in Week 18 came down pretty early in the week. He appeared to have been limping on the final few plays of their win against the Chiefs and it's not worth it to run him out there and the dominoes fell accordingly. Running back Joe Mixon and seven other starters will rest for the Bengals as they are locked into the #3 or #4 seed. The Browns just lost CB Denzel Ward to the Covid list but they are running with most of their starters and could use a win to end their disappointing campaign. Baker Mayfield, in particular, could use a good game and so could head coach Kevin Stefanski after a clunky one last week. As long as the Browns actually try to win this one, it's right there for the taking.
Pick: Browns | ATS: Browns -6 | O/U: Under 37.5
(+145) Packers at (-170) Lions (+3.5. o/u 44.5)
Despite having the NFC's #1 seed firmly in hand Aaron Rodgers and the Packers' starters look like they are going to play, at least for a bit. However, there are also the new rumors circulating about Rodgers potentially boycotting the Super Bowl if the Packers were to make it…talk about putting the cart ahead of the horse. Anyway, this win is meaningless, but the reps are valuable. With the first-round playoff bye, it would have been three weeks between meaningful snaps and that's a formula for an upset. The Lions are actually more dinged up with seven guys listed as questionable. If the Packers want to win, they will but they could easily jump out to an early lead and pull the plug.
Pick: Packers | ATS: Packers -3 | O/U: Under 44.5
(-500) Titans at (+400) Texans (+10.5, o/u 42.5)
The #1 seed is on the line for the Titans as they head to Houston. Derrick Henry isn't back quite yet, but they should have enough despite losing to the Texans earlier in the year. D'Onta Foreman has been running well since taking over the lead duties and both Julio Jones and A.J. Brown should be suited up. Nose tackles Teair Tart and Naquon Jones are both out but Tennessee but they should have more than enough to get the job done and head into the playoffs on a strong note.
Pick: Titans | ATS: Titans -10.5 | O/U: Under 42.5
(-1100) Colts at (+700) Jaguars (+15, o/u 44)
Elsewhere in the AFC South, the Colts are in a must-win game against the Jaguars. Somehow Indy has lost the last six-in-a-row in Jacksonville, but they are in a good spot to end that streak. The Jags have all kinds of issues and it may even be best for them to lose and make sure they get the #1 overall pick next season. They're also without four starters, two along the offensive line. It's "win and in" for the Colts in as favorable of a match as they could have hoped for.
Pick: Colts | ATS: Colts -15 | O/U: Under 44
(+200) Bears at (-240) Vikings (-5.5, o/u 44)
In one of only two games where the outcome doesn't affect the playoff picture, the Bears head to Minnesota to take on the Vikings. Kirk Cousins will play for Minny while Andy Dalton will start for the Bears and there is pride in the division on the line. Both Mike Zimmer (MIN) and Matt Nagy (CHI) may not be coaching their respective teams last year, so it's a game where both will want to show something heading into the offseason after disappointing years. I like Minny at home with Cousins back, but 5.5-points seems like a lot.
Pick: Vikings | ATS: Bears +5.5 | O/U: Under 44
(-320) Washington at (+250) Giants (+7, o/u 37.5)
In the other game that is of no consequence to the bigger picture, the soon-to-be Washington Commanders takes on the Giants. Both of these teams have had disappointing seasons and they'll get to take out their frustrations on each other to end the season. Jake Fromm is getting the start for the Giants and he hasn't had a good showing yet. He won't have Kadarius Toney either, while WFT is without Montez Sweat and William Jackon III. Washington has an identity at least and is usually competitive.
Pick: Washington | ATS: WFT -7 | O/U: Under 37.5
(-190) Saints at (+160) Falcons (+3.5, o/u 40)
The Saints still have a shot to get in (with a 49ers loss) but they'll first have to get revenge against a Falcons team that beat them two months ago. Kyle Pitts is dealing with a hamstring injury that hobbled him last week in Buffalo and that's going to be an issue. The Falcons won't have DE Jonathan Bullard and The Saints are still missing LT Teron Armstead. It's a rare pure-spoiler game this week where Atlanta is playing solely for the chance to end the Saints season. New Orleans' defense has been on-again-off-again and that's why they lost the first meeting. I'm a big fan of what Arthur Smith is doing in Atlanta but I still have to think that Sean Payton will seize the opportunity.
Pick: Saints | ATS: Falcons +3.5 | O/U: Over 40
(+800) Jets at (-1400) Bills (-16, o/u 40.5)
Despite a tumultuous season, the Bills have their chance to clinch the AFC East at home and secure the #3 seed. Buffalo is mostly healthy and they are going to want to be playing well heading into the playoffs. It's a massive spread considering the Bills may pull some starters when/if the game is in hand, so it's not a spread I'd want to get involved with. The Jets have nothing to play for other than figuring out some things for next season and Braxton Berrios is out now too.
Pick: Bills | ATS: Bills -16 | O/U: Over 40.5
(-280) Patriots at (+230) Dolphins (+6.5. o/u 40)
This game could have had massive implications but the Dolphins' loss last week took all the wind out of that sail. The AFC East is still technically up for grabs if the Bills mess around with the Jets, but the Pats are looking at the #5 seed. After what the Titans did to Miami last week, I imagine NE playing a similar brand of power football. Plus, I know Belichick wants revenge for the one-point loss to the Fins back in Week 1. They'll probably be scoreboard watching as well.
Pick: Patriots | ATS: Pats -6.5 | O/U: Over 40.5
(+300) Panthers at (-380) Buccaneers (-8, o/u 41.5)
The Bucs have a shot at the #2 seed in the NFC (with a Rams' loss) against a Panthers team they roasted 32-6 a couple of weeks ago. However, Antonio Brown was heavily featured in that game and he's no longer on the team. Defacto starting RB Ronald Jones II and edge rusher Jason Pierre-Paul are both out, but they should still find a way. It was a little rough there against the Jets as they tried to iron some things out but I don't see Tom Brady letting his team limp into the playoffs on a loss.
Pick: Bucs| ATS: Bucs -8 | O/U: Under 41.5
(+220) Seahawks at (-270) Arizona (-5.5, o/u 48)
It could be the end of the Russell Wilson era, despite talks to the contrary, for the Seahawks as they take on the Cardinals in Arizona. Bobby Wagner won't play for SEA and that's HUGE, plus DT Al Woods and safety Ryan Neal will be sitting out too. Zona will not have rookie WR Rondale Moore, DE Jordan Phillips, or CB Marco Wilson starting. It seems like the Cards figured something out something against Dallas, but if there was a team they didn't want to see while needing a win it was probably Seattle. Wilson and DK Metcalf finally took the shackles off and connected for three TDs last week, so they'll look to uncork a few more as they head into the off-season. The Cards can win the NFC West so they need a win much more while the Hawks just need to have a decent showing.
Pick: Cards | ATS: Seattle +5.5 | O/U: Over 48
(+180) 49ers at (-220) Rams (-4.5, o/u 44.5)
On the other side of the NFC West coin, both the 49ers and Rams have something to play for in Week 18 but San Francisco has to be more desperate as they need a win or Saints' loss to stay in the playoff bubble. The Rams can secure the #2 spot in the NFC with a win. The Niners beat the Rams handily the first time they met, 31-10, and have won 5-in-a-row against them. Some teams are just bad matchups and the 49ers have to leave it all on the field. However, Jimmy G's injury on his throwing-hand thumb is the story right now as he's supposedly going to try and play through it. Kyle Shanahan will try to work around it as much as possible with their potent ground attack and he'll always have Trey Lance waiting in the wings. Los Angeles also may be inclined to throttle down if things aren't going their way. It should be a good game.
Pick: 49ers | ATS: 49ers +4.5 | O/U: Over 44.5
(-160) Chargers at (+140) Raiders (+3, o/u 49)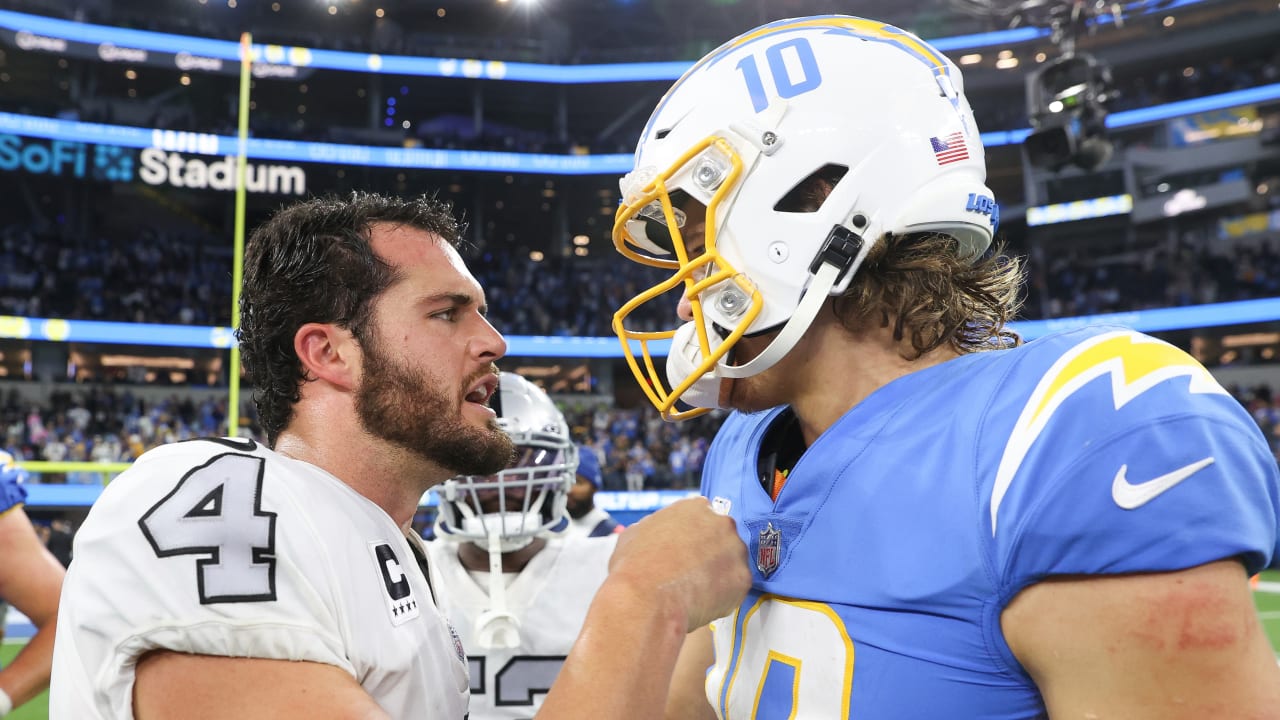 It all comes down to the final game of the regular season on Sunday Night Football as it's "win and in" for the Chargers and Raiders unless the Colts lose. Then, these two teams could enter into an agreement to play to a tie and they would both get in. That's highly unlikely and would be horrible for the league on the final game of the season, in primetime no less. Both TE Darren Waller and RB Josh Jacobs are questionable for Las Vegas but you'd have to think they'll play if there's a chance. Los Angeles is mostly at full strength and they have the ability to play at a ridiculous pace. The defense has been a letdown for them all season and Derek Carr is good enough to take advantage of that. I'd love to see the Raiders get the W because football is better when the Raiders are winning and Bolts didn't value the division lead when it was theirs for the taking. I think the Bolts are more talented, so I'll have to side with them for now.
Pick: Chargers | ATS: Chargers -3 | O/U: Over 49
---
Thanks for reading! I still believe word of mouth is the best way to help, so if you enjoy what I'm doing, please tell somebody. Liking, subscribing, and sharing go a long way too. And, as usual, be well, stay safe, and Go Bills!