It is Victory Monday once again and it's nice to be back on track. The Bills went into the Meadowlands and reminded everyone who the real Kings of New York are, thrashing the Jets 45-17.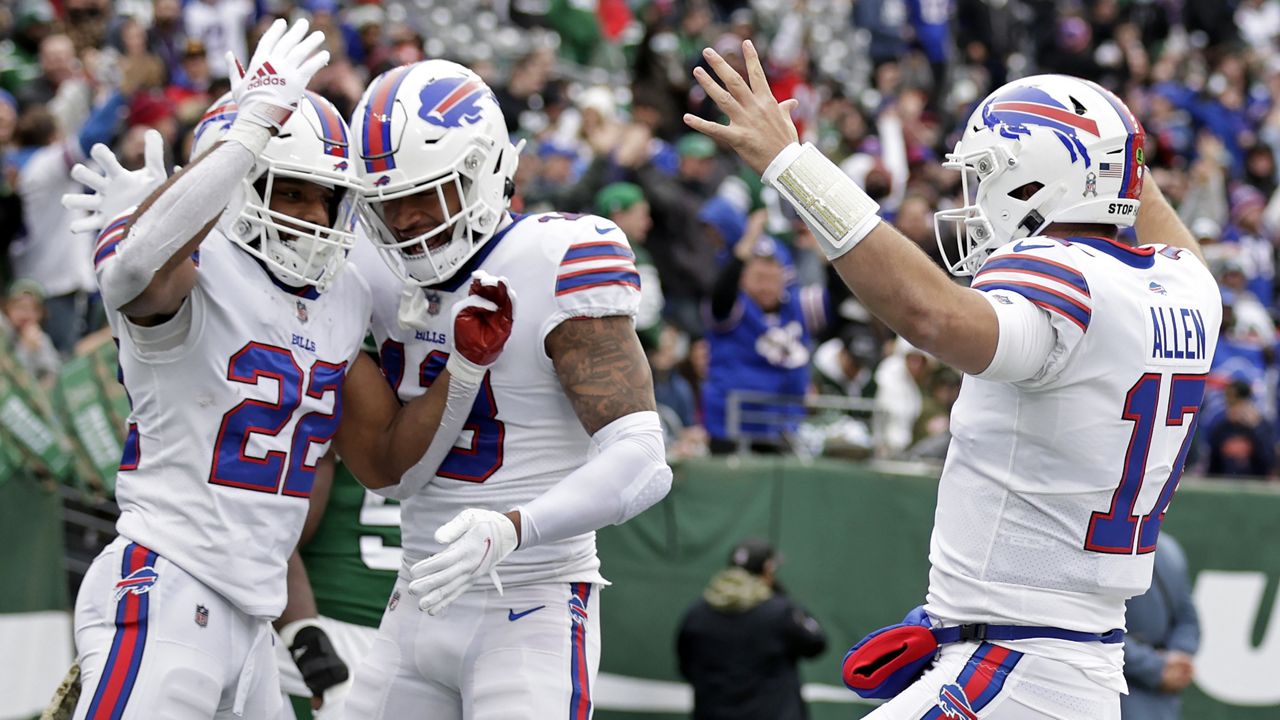 After the disheartening loss to the Jaguars last week, this was an important bounce-back game for Buffalo. They needed to make a statement and they did, dominating on both sides of the ball and restoring confidence in an offense that looked out of sorts over the past three games.
The Bills went into halftime leading 17-3 and, most of the time that's golden, but I wanted to see more from the offense. The defense was playing great like they have been all season and they had already 3 & outed the Jets twice and forced two turnovers while only allowing a field goal, but the performance of the defense hasn't been the thing in question over the last month. It was the Bills' offense that needed to get their act together and even though they used a nice two-minute drill to get a touchdown before the half, I couldn't help but feel there should have been more points on the board at that point.
It's not like 17 first-half points are anything to scoff at, it just felt like Buffalo had dominated the game much more than that. At the end of the first half, the Bills had dialed up 24 pass plays for a net gain of 165-yards and 2-TDs while only sending in 6 rushes for a net of 33-yards. The eternal debate of balance on the offense rages on within Bills Mafia, but the second half showed me what I needed to see and helped further establish the importance of a run game.
Playing with the lead in the second half, against one of the worst run defenses in the league is exactly the time to get the run game figured out. Buffalo more than doubled their designed run calls after halftime and finished the second half with 14-carries for 106-yards and 4-TDs. Just further evidence that their offense actually performs much better when they run the football. That isn't always easy against better competition in closer games, but we saw Briand Daboll use more deception and more lateral movement to give his guys more space to operate.
I'll admit that when the Bills line up in singleback formation and run a basic stretch handoff, they almost exclusively go nowhere. The blocking almost never sets the edge and something about the personnel seems to telegraph the play. Devin Singletary and Zack Moss haven't shown the burst to beat that blown block on the edge either. Enter Matt Breida. I was excited when he was signed in the offseason and thought he would be a bigger factor earlier in the season, but he was a healthy scratch for most of the campaign so far. However, he showed what he could do with the ball in his hands by scoring twice and posting 50 scrimmage yards on only 6 touches (and yes he also fumbled). Daboll seemingly recognized the struggles of his O-line to hold the edge so Breida's TD run came on a pitch and not a handoff, giving him a better angle to the edge and more space to operate sooner in the play. It can't even begin to describe how great it was to see that.
You could see what his presence did to the defense and to his fellow RBs. Once Breida cracked that TD run, both Moss and Motor were able to find the endzone with runs that are more their style and they finished with a combined 14-carries for 70-yards and 2-TDs. Fold in the sweeps to Emmanuel Sanders and Isaiah McKenzie and Buffalo had one of their best rushing games of the season going 139-yards. The idea that running the ball is a bad idea is a myth and it certainly didn't hurt the passing game either.
Josh Allen had one of his best games of the season going 21/28 for 366-yards, 2-TDs, 1-interception, and 2-sacks, but both of those sacks came in the first half when the play distribution was almost exclusively pass-based (80%). Allen had 165 net yards in the first half with that split, but he had 159-yards in the second half on only 6/7 passing. That's BECAUSE of the run game. The debate surely won't end here but there is more than enough evidence to support the establishment of an effective ground game and the 60%-40% split sure looked great on paper and on film.
We also Stefon Diggs return to being the target monster he was last season. He's had a very good season so far, but it hasn't been on the same level as what he did last year. That's likely because of Allen and Daboll working to get all the other guys, especially Emannuel Sanders and Dawson Knox, more involved as bigger pieces of the offense. That's totally fine, but sooner or later, we were going to be reminded of Diggs' excellence and that came in Week 10. He was targeted 13 times (basically as much as the rest of the team combined) and he hauled in 8-catches for 162-yards and 1-TD with a long of 57-yards. That's a whopping 20.25-yards-per-catch. He probably won't be doing that on a weekly basis, but it's an important reminder that he needs to see a high volume of targets and can stretch the defense with them.
I mentioned the defense briefly earlier, but they really made this a crash-and-burn performance for the legend of Mike White. Every member of the Bills' secondary had a takeaway as White threw 4-INTs and Corey Davis fumbles one away. Buffalo only sacked White once, but they were getting their licks in on him and disrupting the pocket all afternoon. They did cede some garbage time scores once it was 38-3, but it was nothing of genuine concern. It was just another day at the office for the best defense in the league and the Bills now own a +145 point differential over their opponents.
This was the type of game we needed to see from Buffalo. Not only did they dominate in all facets, they specifically addressed areas of concern over the previous weeks and added some new wrinkles to their approach. They still have to play to this level against better competition, but they'll have that opportunity soon.
Performance Grade: A
It's a playoff rematch from last season as the Bills welcome the Colts to Orchard Park next week. Indy is starting to play better and better as they have figured out their identity and despite their 0-3 start, they are 5-2 since. It's not an easy game at all for Buffalo so it's going to be a good litmus test. I'm excited and nervous. Go Bills!