No list of mine would be complete without a Nicolas Cage movie so, sticking with the Christmas crime spree and family theme, that brings us to 1994's Trapped in Paradise.
Written & Directed by George Gallo
Starring: Nicolas Cage, John Lovitz, and Dana Carvey
---
A trio of criminally inclined brothers decides to rob a small-town bank on Christmas Eve only to get stranded by a blizzard on their way out. Meanwhile, another group of crooks kidnaps their mother and uses her as leverage to try and steal the score. When their escape plan is foiled, the brothers are forced to spend the holiday with the townspeople and are overcome by their friendliness and Christmas spirit.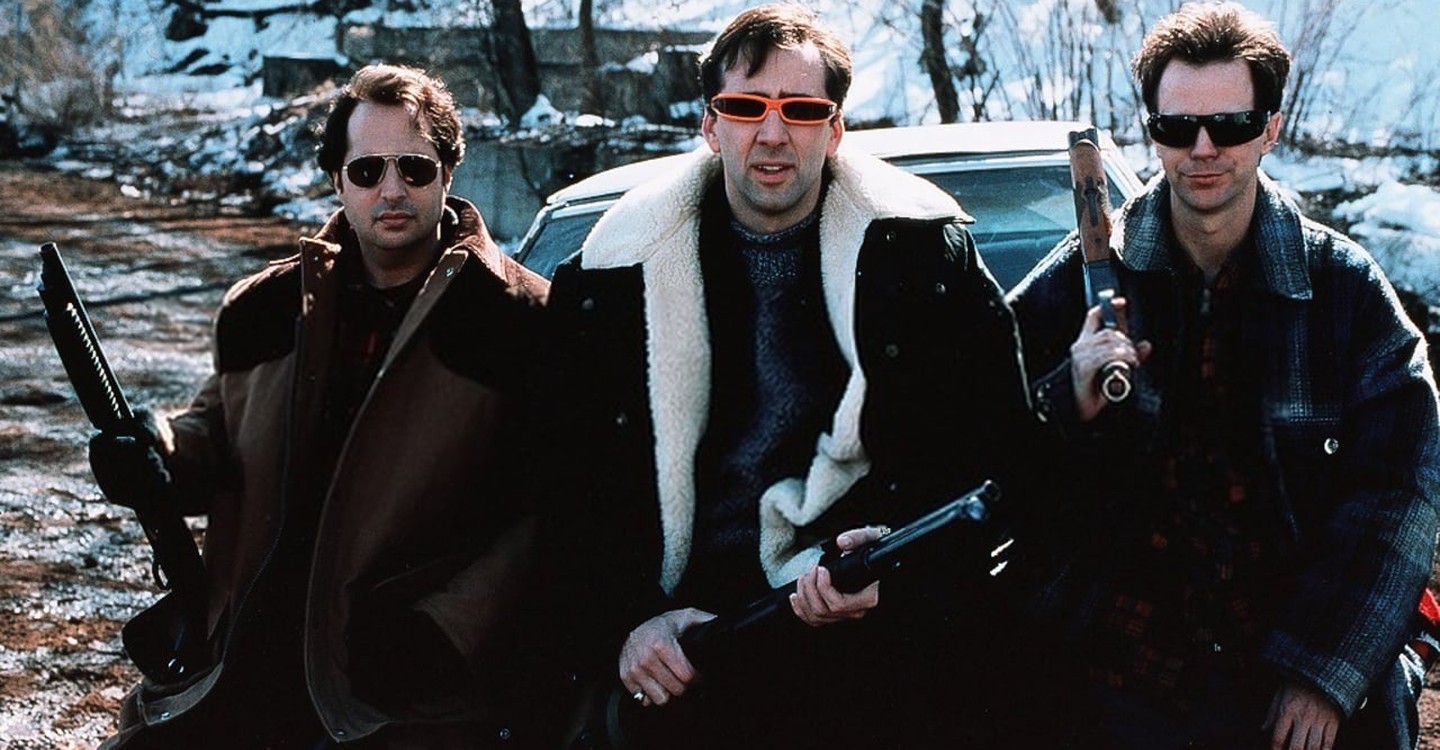 George Gallo's quirky comedy is less about the heist and more about the circumstances surrounding the event. It's got a three stooges vibe if that idea was broadened and less slapstick. The characters have a growth curve and even though it's predictable, the progression comes naturally in the story. It's not the first time where the audience is meant to cheer for the criminals and the dynamic between the three of them is enjoyable enough to watch. 
Nicolas Cage was in the early stage of his ascension to superstardom when this movie came but it shows the kinds of divergent roles that would come to be his trademark. He plays Bill Firpo, the "good" brother who has a job and it trying to stay above board. It's not as eccentric as some of his other roles but watching him get sucked back in by his two scheming brother on parole you see some vintage Cage. 
John Lovitz is the skeevier of the two, Dave. It's actually he who manipulates his brothers into the bank job. Lovitz is great at being slimy and it's his dynamic with the other two that makes things work. Dana Carvey is the cleptomaniac brother, Alvin, who really just wants to hang out with his brothers…but also loves stealing things. The performances between the three of them are undoubtedly the selling point. There are also strong supporting performances from Richard Jenkins and Donald Moffat.
There's sweet energy to the story as these three New Yorkers in search of a big score, wind up in a small town where everyone cares about each other. Through their exposure, the spirit of the holiday makes its presence felt. You can stream Trapped in Paradise on HBO Max right now or rent it through video-on-demand.   
---
Happy Holidays from Paradise!