Thursday night's game didn't look so appetizing on paper, but it turned out to be a pretty good scrap as the Cincinnati Bengals rallied in the second half and hit the game-winning field goal as time expired to beat the Jacksonville Jaguars 24-21. I had the Bengals to win and the Jags to cover 7.5-points, so it's nice to start the week with a win but I missed the over at 46-pts.
The Jags made it a little scary for those of us who picked Cincy to win but, if you read my breakdown for that game, then you knew what to expect. As predicted the Jags came out playing hard and jumped out to an early lead behind James Robinson. Rookie QB Trevor Lawrence played what amounts to his best game as a pro and they and were leading 14-0 at the half after passing up a field goal with their starting kicker, Josh Lambo, out. However, momentum swung there.
Cincy battled back in the second half thanks to some hard running by Joe Mixon and some big plays by TE C.J. Uzomah who had two TDs and Tyler Boyd had 9-catches for 118-yards. Jacksonville didn't adjust much coming out of the half, so credit to Zac Taylor for getting his team settled down and making the right changes to get the comeback W.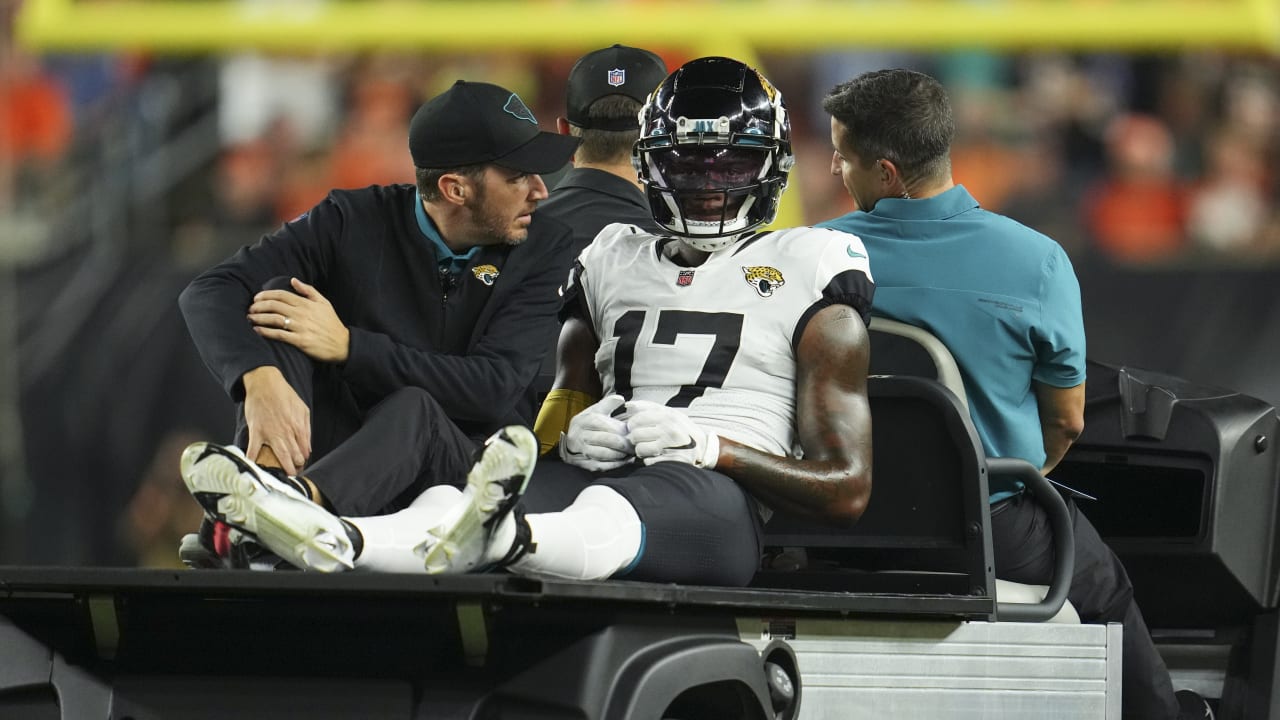 Sadly, Jaguars' #1 WR D.J. Chark suffered a season-ending injury on the game's third play. The fourth-year man was out blocking on a run play when one of his offensive linemen rolled up on his leg from behind. Chark stayed on the turf for a while and it looked like he may have avoided something serious when he wasn't placed in an air cast on the field. However, he was carted off and the X-ray showed a fracture in his ankle. I read that he's expected to undergo surgery that will end his 2021 campaign. It's a major loss to the Jags' offense. Chark has been one of my favorite players over the past few seasons, so it was sad to see him go down like that and here's hoping he has a speedy recovery.
Things get interesting in Week 4 as the slate of matchups shifts to much more difficult matchups. Nine of the 16 games on deck have a spread of less than 5-points and seven of those games have a spread of 3-pts or less. Things are tightening up as the first month of the season wraps up and teams begin to figure out their identities.
(-125) Washington at (+105) Falcons (+1.5, o/u 47.5)
A couple of 1-2 teams look to get to five-hundred as Washington and Atlanta square off. I don't think anyone is going to confuse this for a "good" game, but both these teams are approaching desperation territory. Neither has looked particularly good so far, but the Falcons got off the schneid with a win over the G-Men while the Washington defense has gone from being the #2 unit last season to bottom-5 so far this season after getting steamrolled by the Bills. The Falcons are middle of the pack vs the pass and the run but still somehow below Washington in scoring defense. Atlanta is without WR Russell Gage and DL Marlon Davidson, while Washington is without CB Benjamin St-Juste with starting RB Antonio Gibson and DL Matt Ioannidis still questionable. Having lost all faith in ATL last season, this is a lose-lose pick.
Pick: Washington | Vs Spread: Washington -1.5 | Over: 47.5
(+125) Lions at (-145) Bears (-3, o/u 41.5)
This is another ugly pick as the Lions and Bears share a single win between them. It may be tough to discern what's what, but the Lions' 0-3 may actually be slightly better than the Bears' 1-2. It's a what have you done for me lately league and Detroit have, at least, been mostly competitive. Chicago got dominated in their two losses and almost blew it in their one win, plus their QB situation is a carousel. Andy Dalton is still questionable along with LB Khalil Mack, WR Darnell Mooney, and Xavier Crawford. DB TaShaun Gipson Sr. is doubtful and depth LB Joel Iyiegbuniwe is out. Lions' OLB Tre Flowers is out while RB D'Andre Swift, DE Michael Brockers, and OLB Romeo Akwara are questionable.
Pick: Lions | Vs Spread: Lions +3 | Under: 41.5
(-290) Titans at (+235) Jets (+6, o/u 44.5)
We've apparently reached the load-management portion of the NFL season as the Titans are resting basically everyone. Receivers Julio Jones and A.J. Brown, OLB Bud Dupree, CB Caleb Farley, DL Larrell Murchison, and P Brett Kern are all out for this game but that's really only four starters. Derrick Henry is still going to play and likely get 30 carries, but there could be an opening for Josh Reynolds, Chester Rogers, or Anthony Firkser to have a big day. Three of the Jets' primary offensive options are banged up with WR Elijah Moore out, and WR Jamison Crowder and TE Tyler Croft questionable. Depth players WR Jeff Smith and S Marcus Maye are out too. If there was a game the Jets could steal, this would be it but Tennessee is still better equipped.
Pick: Titans | Vs Spread: Titans -6 | Under: 44.5
(-130) Browns at (+110) Vikings (+2, o/u 51.5)
I said last week that the Vikings can play with anybody and they showed us what they are capable of when they shut out the Seahawks in the second half and hung 30-pts on them in Week 3. Minny should be 2-1 with a win over the (3-0) Cardinals and could actually be 3-0, which would certainly shift the narrative. Kirk Cousins is playing lights-out right now and even with RB Dalvin Cook out last week, the offense didn't miss a beat. Cook is still questionable along with LB Anthony Barr, DT Michael Pierce, and depth corner DB Kris Boyd. On the other side, with Jarvis Landry on IR, Odell Beckham Jr. is back to help keep the Browns passing game afloat but, it's the injuries along the O-line to starting center JC Tretter and starting LT Jedrick Wills Jr. that are worrisome for a team that's predicated on control upfront. I laid out all the reasons that the Vikes could upset Seattle last week and then picked against them and I don't want to make that mistake again.
Pick: Vikings | Vs Spread: Vikings +2 | Under: 51.5
(+115) Colts at (-135) Dolphins (-2, o/u 42.5)
These two teams also share only a single win between them and that came on a Dolphins 1-pt win over the Patriots in Week 1. Miami did hang tough with the Raiders last week, taking them to overtime. The Colts played the (3-0) Rams pretty close in Week 2 and but then played a mediocre game against the Titans in Week 3. Their O-line is torn up after losing All-Pro left guard Quenten Nelson to IR while their right tackle Braden Smith is also out and RG Mark Glowinski is questionable. Indy's defense is wounded too with CB Rok Ya-Sin, SS Khari Willis, and DE Kwity Paye all out. QB Carson Wentz is still questionable and RB Jonathan Taylor is too. The Fins are without their starting center Michael Deiter but are vastly more healthy by comparison. Jacoby Brissett gets a shot at payback against the team that didn't want him to.
Pick: Fins| Vs Spread: Fins -2| Under: 42.5
(+175) Panthers at (-210) Cowboys (-4.5, o/u 51.5)
This is the first game on the ledger that's between teams with winning records and it should be a good one. Taking the strength of schedule into account, the Cowboys appear to be the better team but they can't overlook the Panthers. Dallas is also on the wrong side of the injury report with several key players out, including LB Keanu Neal, DT Carlos Watkins, S Donovan Wilson, and DEs Dorance Armstrong and Bradlee Anae, while another DE Randy Gregory is questionable. Those are a lot of missing pieces from a defense that's been surprisingly good this season. We all know that RB Christian McCaffrey is out for the Panthers right now but that's about it. My instant pick would be Dallas but those injuries are scary.
Pick: Cowboys| Vs Spread: Panthers +4.5 | Over: 51.5
(+270) Giants at (-340) Saints (-7, o/u 42)
The Saints got back on track with a win in Week 3 while the Giants continued to circle the drain, blowing another 4th-quarter lead. There's not much to see here. New Orleans is still without C Erik McCoy and they added LT Terron Armstead to that list. New York is much worse off though missing starting WRs Sterling Shephard and Darius Slayton along with LG Ben Bredeson. The Saints have yet to prove that they are consistent but handling business against the Giants is a start. The NY defense isn't what it was last season so the Saints by 7-points seems logical.
Pick: Saints | Vs Spread: Saints -7 | Under: 42
(-330) Chiefs at (+260) Eagles (+7, o/u 54.5)
Kansas City embarrassed themselves at home vs the Chargers last week, but it's not been the cleanest season either. They should have lost to the Browns in Week 1, messed around with the Ravens and got beat, and then played arrogant against LAC and got beat again. Are the Chiefs going to lose three games in a row? Probably not. Are the Eagles capable of being the team to defy the odds? Probably not. They are fairly healthy, minus LT Jordan Mailata being out and Brandon Graham on IR. The Chiefs have CBs Charvarious Ward and Rashad Fenton out in the secondary and DE Frank Clark out along the defensive line. Their defense has already shown itself to be pretty bad beforehand so those deficits are not promising. Philly can make it interesting but the Chiefs needed a wake-up call to stop playing arrogant and back-to-back losses should do the trick.
Pick: Chiefs | Vs Spread: Chiefs -7 | Over: 54.5
(+900) Texans at (-1700) Bills (-17, o/u 47)
The Bills could play only their second-string guys in this game and still have enough to beat the Texans, so being without G John Feliciano and S Jordan Poyer isn't going to be catastrophic. Houston brings nothing to the table that's concerning but they do have heart. Buffalo as massive 17-pt favorites is kinda ridiculous but if there was ever a game where it seems warranted this would be it. Trap games come in all shapes and sizes, but this isn't a trap game. It's just a mismatch. Bills by a Billion! Go Bills!
Pick: Bills| Vs Spread: Bills -17 | Under: 47
(+180) Cardinals at (-220) Rams (-4, o/u 54.5)
This game is lined up to be the Game of the Week, as two 3-0 teams clash for the NFC West lead and the inside track for home-field advantage in the playoffs. Neither team has anything significant going on the injury report this week, but AZ has a handful of guys questionable along the O-line. That doesn't tend to bode well against the Rams. Coming off a win over the defending champs, the Rams could be due for a letdown but they have dominated the Cardinals as of late. Cards' QB Kyler Murray is winless vs them and the Rams have won the last 8 in a row dating back to 2017. Times can change but I tend to favor the better defense in close games and that edge goes to Los Angeles.
Pick: Rams| Vs Spread: Cards +4| Over: 54.5
(+130) Seahawks at (-150) 49ers (-3, o/u 52)
The other two NFC West squads get it cracking as they try to keep pace with the Rams and Cards. They are fortunate that one of those teams isn't going to improve to 4-0 but have to focus on the task at hand. Since the start of the Russell Wilson era in Seattle (2012), the Seahawks have only lost to the Niners four times. That's a record of 15-4 against SF over that time, including wins in both matchups last season, but 2021 is a new year. Tight end George Kittle and defacto starting K'Waun Williams are questionable along with LB Javon Kinlaw and CB Josh Norman is doubtful. Seattle is without RB Rashad Penny, T Brandon Shell, TE Gerald Everett…and LB Benson Mayowa was just ruled out too. Tyler Lockett is also questionable which could impact the offense a lot. I want to pick against SF but it's difficult to commit to Seattle right now. Frisco could be 3-0 and showed a lot of work ethic to even get back in that Green Bay game. This is a coin toss game in my book because these two teams battle but Seattle needs it more.
Pick: Seahawks | Vs Spread: Seahawks +3 | Under: 52
(-110) Ravens at (-110) Broncos (Pick 'Em, o/u 45)
It's time to find out if the Broncos are, in fact, for real. They might be 3-0 but beating the three worst teams in the NFL isn't impressive. Their defense is definitely solid but it looks exceptional against the league's cellar dwellers. Right guard Graham Glasgow is out for Denver and they have a lot of guys questionable, but the same goes for Baltimore and then some. Only LT Ronnie Staley and DE Derek Wolfe are out, but they have like 10 players questionable including Lamar Jackson and a bunch of key players on defense. The altitude is already a killer at Mile High and some of the "did not practice" designations were rest-related for the Ravens. This one's a coin toss for a reason, but it's a big step up in competition for the Broncos and a mostly healthy Ravens team should win.
Pick: Ravens | Vs Spread: n/a | Over: 45
(+240) Steelers at (-300) Packers (-6.5, o/u 45.5)
Left tackle Elgton Jenkins and CB Kevin Kang are doubtful for the Packers while WR Chase Claypool, DT Carlos Davis, RT Chukwuma Okarfor, and backup LG Rashaad Coward are out for the Steelers. The good news for PIT is that T.J. Watt is back. When healthy, he's a game-changer and his return basically gets the Steelers' defense back to full strength. If they play up to their potential they can be major problems for a good offense like we saw in Week 1 vs my Bills. Green Bay snuck out a road win over the 49ers in Week 3 but almost blew that one. The Steelers' stock is low after the last two games but that doesn't mean they are to be counted out yet. They need the win more than the Packers do and I wouldn't be too surprised to see them pull it off.
Pick: Steelers | Vs Spread: Steelers +6.5| Over: 45.5
(-320) Buccaneers at (+220) Patriots (+7, o/u 49)
This may be the Sunday night game because of the history with Tom Brady and the Patriots, but it's not a particularly close game. However, TE Rob Gronkowski, DB Jamel Dean, RB Giovani Bernard, and DE Jason Pierre-Paul are out for this matchup. The Bucs did add CB Richard Sherman to the roster and he'll be suited up for the game. Mac Jones hasn't looked too good as the new Pats QB and losing RB James White to IR takes away a safety net. Tampa should be able to get plenty of pressure still and dominate both sides of the ball, so don't be surprised to see some "questionable" calls that keep the game close. I expect Brady to mark his territory emphatically.
Pick: Bucs| Vs Spread: Bucs -7 | Under: 49
(+145) Raiders at (-170) Chargers (-3, o/u 52.5)
Monday night gets an AFC West showdown with the division lead potentially hanging in the balance. The Raiders are playing great right now and the Chargers are coming off a monumental win over the Chiefs in Week 3. Running back Josh Jacobs is the only guy on the injury report for Las Vegas and he's questionable while the Bolts are without DE Justin Jones with CB Chris Harris Jr. and LB Kenneth Murray Jr. listed as questionable. From what I've seen, the Raiders have been playing at a higher level so getting them as the underdog is nice. Both teams have played well, led by strong QB play, but the Raiders have the edge in the experience where it counts the most.
Pick: Raiders | Vs Spread: Raiders +3 | Over: 52.5